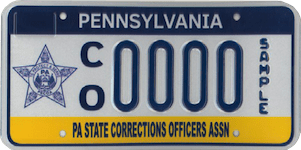 Attention PSCOA Members…
The PSCOA is proud to offer organizational specialty registration license plates for all active PSCOA members.
PLEASE NOTE THERE HAS BEEN A SLIGHT PRICE CHANGE EFFECTIVE NOVEMBER 2015!
There is now also an option for personalizing these plates for an additional fee. The forms below reflect this change.
Please download and read the instructions and application to get your own PSCOA license plate.
Click here to download information and application.
Thanks to CO1 Nagy for his license plate suggestion and for getting the ball rolling.